System Type:
Low-sulfidation epithermal vein system, comprised of discrete, high-grade, quartz-calcite veins which were the focus of historic mining.
Strike-Length:
The Thor vein zone ranges from 0.6 to 6.1 meters in width and is traceable for 400 meters along strike, north-south to northwest-southeast and is open to both the north and south.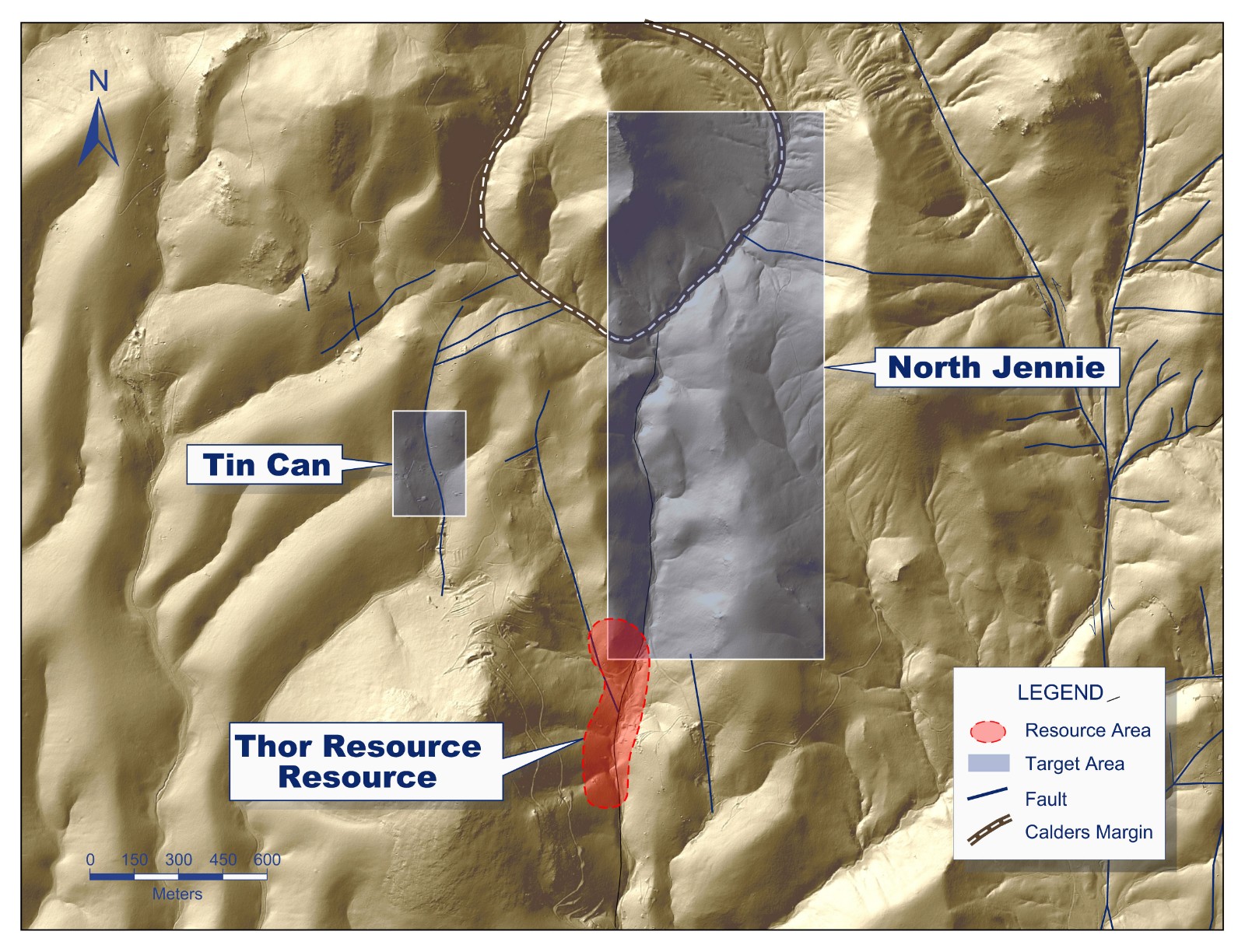 Resource:
Category

$1,800 Pit-Constrained - 0.20 g/t gold cutoff*

Tonnes

(1000s)

Au

Ag

Grade
(g/t)

Troy oz


Grade
(g/t)

Troy oz


Measured

1,432

0.55

25,395

8.89

409,193

Indicated

2,245

0.47

34,113

6.26

451,998

Measured Plus Indicated

3,677

0.50

59,507

7.29

861,191

Inferred

1,963

0.57

36,030

6.24

394,002
* Thor gold cutoff uses a grade of 0.20 g/t due to higher overall grades.
The Thor mineral resource has an effective date of June 13, 2022. The inferred resource is in addition to the measured and indicated resource. Mineral resources that are not mineral reserves do not have demonstrated economic viability. Numbers have been rounded, which may lead to some numbers not adding up exactly. The resource estimate reflects gross metal content that is not adjusted for metallurgical recoveries.
Location:
The Thor resource is located on the Nevada side of the Gold Springs project and is approximately 180 meters west of the historical Jennie Mine which was the second largest historic producer within the Gold Springs project area.
Drilling:
A total of fourteen holes have been completed at the Thor target. Drill assays of the veins returned grades of 1.0 to 4.5 g/t Au and up to 12.2 g/t Au and 105 g/t silver. Drilling from 2016 explored the vein system at depth and intercepted a high-grade zone that averaged 44.8 g/t Au and 58 g/t Ag over 7.6 meters between 179.8 meters and 187.4 meters, containing one 1.5-meter interval that assayed 7.0 oz/t Au (215.4 g/t Au) and 105 g/t silver. One core hole was drilled at the Thor resource in 2011 and contained several intercepts with values >3.0 g/t gold. More drilling is required to test the extensions of the mineral intercepts.
Geophysics:
The Thor resource is coincident with the strongest resistivity anomaly within a structural corridor defined by ZTEM (airborne geophysical survey). The resistivity anomaly runs north-south and encompasses the Thor, North Jennie, Southern Vein, and Silica Hill target areas. The area sits at the southern end of a strong CSAMT (ground geophysical survey) anomaly that follows the same ZTEM corridor. (See maps below)
Geology:
Mineralization at Thor occurs in discrete banded, quartz-carbonate vein zones that range from 0.6 to 6.1 meters in width and consists of quartz, calcite, and adularia sometimes exhibiting distinct bands of high-grade gold mineralization that were subject of selective historical mining with other vein bands left behind as waste.
Veins at Thor are traceable for 400 meters along strike (north-south to northwest-southeast), where it is poorly exposed along the surface due to colluvial cover. The vein is traced through exposures in shallow pits, trenches, and drill holes along the defined 400 meters. To the south the discrete Thor vein merges with the massive silicification seen at the Silica Hill target. While these two targets are along strike with one another they represent different styles of mineralization with Silica Hill being a much higher-level expression of an epithermal system and Thor representing the deeper portion of the same system.
Mapping and detailed rock chip sampling demonstrates that there are multiple smaller veins roughly parallel to the Thor vein that range from 30 centimetres (cm) to 2 metres in width. The mineralized veins are often white to grey banded quartz and quartz-calcite with bladed silica textures after calcite, and often occur with seams of hematite clay between bands. Gold mineralization tends to be associated with the hematite clay seams between bands of quartz-calcite and in the open vugs. Veins occur in a structural corridor which hosts the Jennie and Thor veins as well as the numerous smaller veins. The Thor vein is margined by hydrothermal breccia zones (up to 1.5 meters in width) that appear coeval with vein emplacement. Lithic breccias are associated with fault zones that contain quartz-calcite vein material and appear to be syn-to post mineralization. The wall rock around veins exhibit little alteration that extends beyond the vein selvedge.
Structural Geology:
The Thor resource area is located inside the margin of a collapsed caldera. The Thor vein coincides with a structural corridor seen in mapping and defined by a ZTEM (airborne geophysical survey) anomaly that runs north-south which contains the Thor, North Jennie, Southern Vein and Silica Hill target areas. The Thor vein is reported to be offset on the north and south by post-mineral faults from historic mine records obtained from the adjacent Jennie Mine vein system. The offset to the north is thought to be minor along a strike-slip fault, while to the south it is thought to be cut by block faulting with the Thor vein system in the down-dropped block and the Silica Hill target int eh upthrown block.
Historical Mining:
Several historic tunnels, shafts and pits are found scattered across the Thor target. The Thor resource is approximately 180 meters west of the historical Jennie Vein. The Jennie Mine was one of the district's largest producing mines, with a reported grade of 0.4 ounces per short ton (oz/t) (12.4 g/t) Au over widths of 1.5 to 7.6 meters.
Geochemistry:
Rock samples across the Thor veins near open stopes exhibit banded quartz and adularia, sparse oxidized sulfide grains, visible gold grains, with rock samples that assay up to 23.35 g/t gold and 252.9 g/t silver. A rock ship sample across a 2-metre section of the Thor vein left behind by early mining assayed 3.1 g/t gold. The area is part of a high-grade soil anomaly that extends south to the Silica Hill target.