System Type:
Low sulfidation, volcanic hosted, epithermal system, comprising of quartz-calcite veins with broad zones of brecciation and surrounding stockwork veining.
Strike-Length:
North Jumbo has been traced over a north-south strike length of 1,500 metres through drilling and surface exposures. The resource remains open to the north and to the southwest.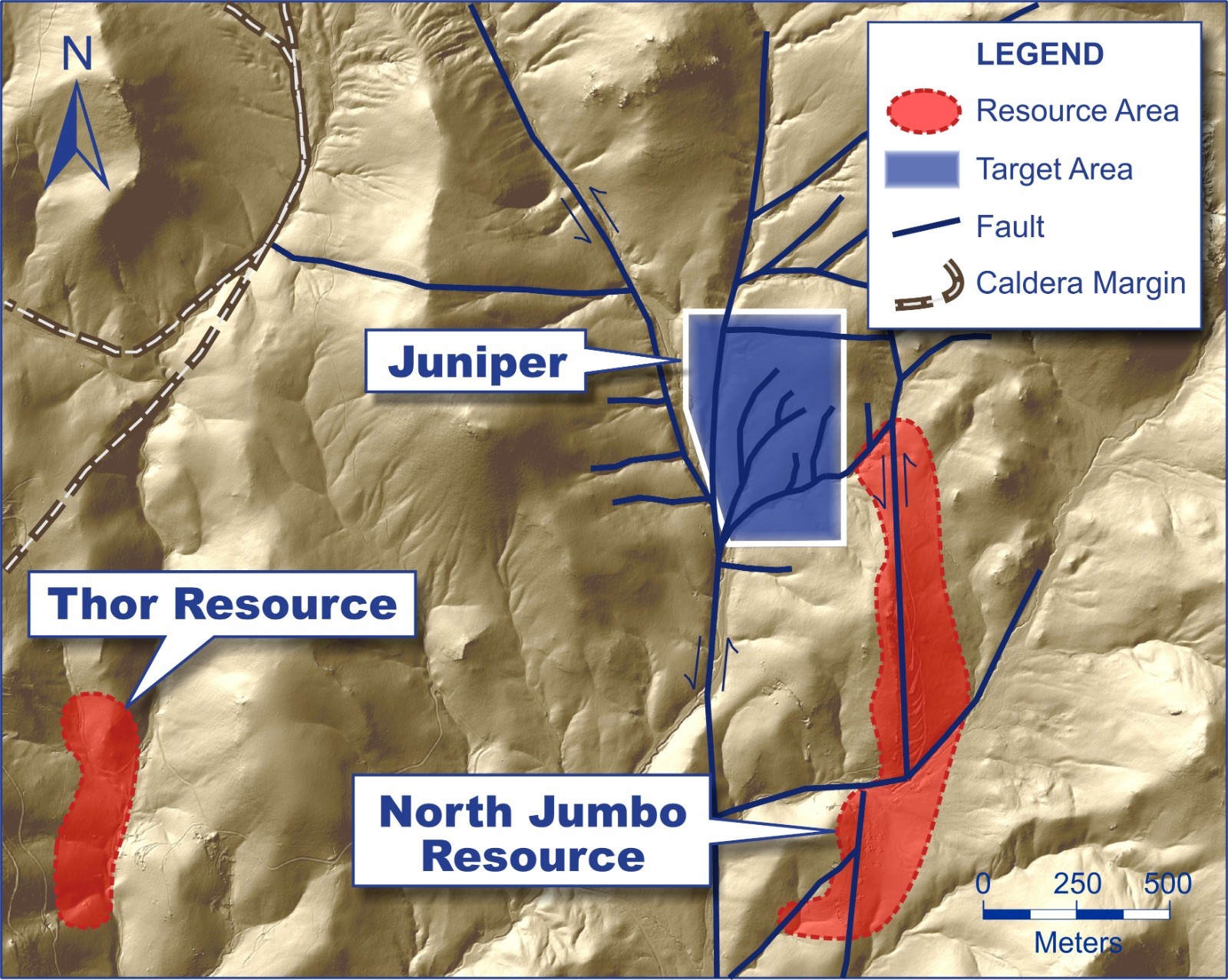 Resource:
Category

Pit Constrained - 0.25 g/t gold cutoff

Tonnes (1000s)

Gold

Silver

g/t

Troy oz (1000s)

g/t

Troy oz (1000

Measured

8,456

0.53

143

13.3

3,616

Indicated

8,617

0.47

130

11.0

3,060

Measured + Indicated

17,073

0.50

273

12.2

6,676

Inferred

2,556

0.46

38

7.2

591
The North Jumbo mineral resource has an effective date of May 1, 2020. The inferred resource is in addition to the measured and indicated resource. Mineral resources that are not mineral reserves do not have demonstrated economic viability. Numbers have been rounded, which may lead to some numbers not adding up exactly. The resource estimate reflects gross metal content that is not adjusted for metallurgical recoveries.
Location:
The North Jumbo is located on the Utah side of the Gold Springs project 1,500 metres north of the South Jumbo resource.
Drilling:
A total of 95 holes have been drilled at North Jumbo for a total of 14,893 metres. The drill-holes extend over a 1500-metre strike length mineral system, which is open to expansion to the north and southwest.
By the end of August 2021, the company had drilled 9 new holes at North Jumbo with the following location:
Geophysics:
The gold mineralization at the North Jumbo resource is closely associated with strong north-south trending ZTEM (airborne geophysical survey) and CSAMT (ground geophysical survey) resistivity highs. The resource is located along the eastern boundary of these high resistivity features which extend well beyond the current drilling.
Geology:
The north Jumbo resource area consists of a continuous structural zone that can be traced on surface for 1,500 metres before it is obscured by post-mineral cover to the north. The North Jumbo target area is characterized by a prominent vein and breccia corridor up to 30 metres wide along the north-south striking, easterly dipping Jumbo fault. The Jumbo structure has developed breccia and stockwork mineralized zones over 100-200 metre in thicknesses which are footwall to the structure and make up the bulk of the resource. The southern portion of the resource is characterized by numerous veins and stockwork zones over a broad area of up to 150-200 metres wide.
The potential for the extension of the Jumbo resource to the north is primarily defined by the ZTEM and CSAMT surveys which suggest the system may extend for an additional 1,200 metres. Most of this northern area is covered by post-mineral colluvium and andesite flows with discrete windows that reveal altered volcanic rocks and vein material. In 2015 and 2016, drilling programs intercepted sub-surface mineralization beneath this post mineral cover. Recent mapping has identified windows in the post mineral cover north and west of the current drilling which reveal areas of strong alteration and veining extending over broad areas.
Structural Geology:
Structure at North Jumbo features two dominant north-south striking faults, the Jumbo fault on the east and the Etna fault on the west. These are long-lived deep-seated faults which control the mineralization seen within the Jumbo trend. They are Basin and Range extensional normal faults which also had a lateral movement component. It is this lateral movement that created areas of extension and brecciation that host the resource.
Historical Mining:
Several historic tunnels, shafts and pits are found within the North Jumbo target area. Production from these mines was reported to be from narrow high-grade veins which were exploited over a limited strike length of 30-50 metres.
Geochemistry:
Within the North Jumbo resource area, there is a massive quartz and quartz/calcite vein that can exceed 5 metres in width and forms a rib known as Jumbo Ridge. The central quartz vein is dense, fine-grained quartz, which on close examination will exhibit relict rounded pebble breccias, banding, and bladed texture after calcite. The distribution and rounded form of the breccia clasts indicate that they are derived from repeated hydrothermal brecciation and fluidization within the vein system. In some areas, the breccia consists of angular silicified wallrock clasts in a quartz matrix. The quartz veins exhibit bladed texture, which suggests that boiling occurred within the hydrothermal system. in 1985 (pre-43-101) blasted trenches across the massive and silicified Jumbo Ridge. These results are presented only as an historical context, they provide evidence of the strong gold mineralization within the North Jumbo system. The following are the results of the Energex trench sampling.
| | | | |
| --- | --- | --- | --- |
| Trench ID | Length | Gold g/t | Silver g/t |
| J85TD1 | 5.54 | 1.36 | 26.0 |
| J85TD3 | 1.52 | 3.54 | 29.0 |
| J85TD6 | 1.37 | 4.54 | 18.0 |
| J85TD6 | 1.42 | 22.31 | 37.0 |
| J85TD7 | 1.52 | 2.12 | 11.5 |
| J85TD10A | 0.91 | 1.86 | 14.0 |
| J85TD11 | 1.71 | 6.61 | 75.6 |
| J85TD13 | 1.43 | 1.62 | 82.2 |
| J85TD17 | 1.37 | 0.39 | 115.6 |
Adjacent to the veins and breccias, extensive areas of quartz stockwork veining becomes more diffuse outward from the main vein structures and grades into crackle fractures, breccias, and silicified rock. These areas typically carry gold values of 0.25-1.5 g/t Au as seen in the GRC drilling.