System Type:
High-grade, banded, epithermal, quartz veining located at the tuff-andesite contact, and breccia and stockwork zones within the andesite.
Strike-Length:
Banded and bladed white quartz veins are found in outcrop and within historic mine workings generally striking north-south. Together, mine workings span a distance of 150 metres over a width of 50 meters before being lost under post-mineral cover in all directions.
Resource:
None at this time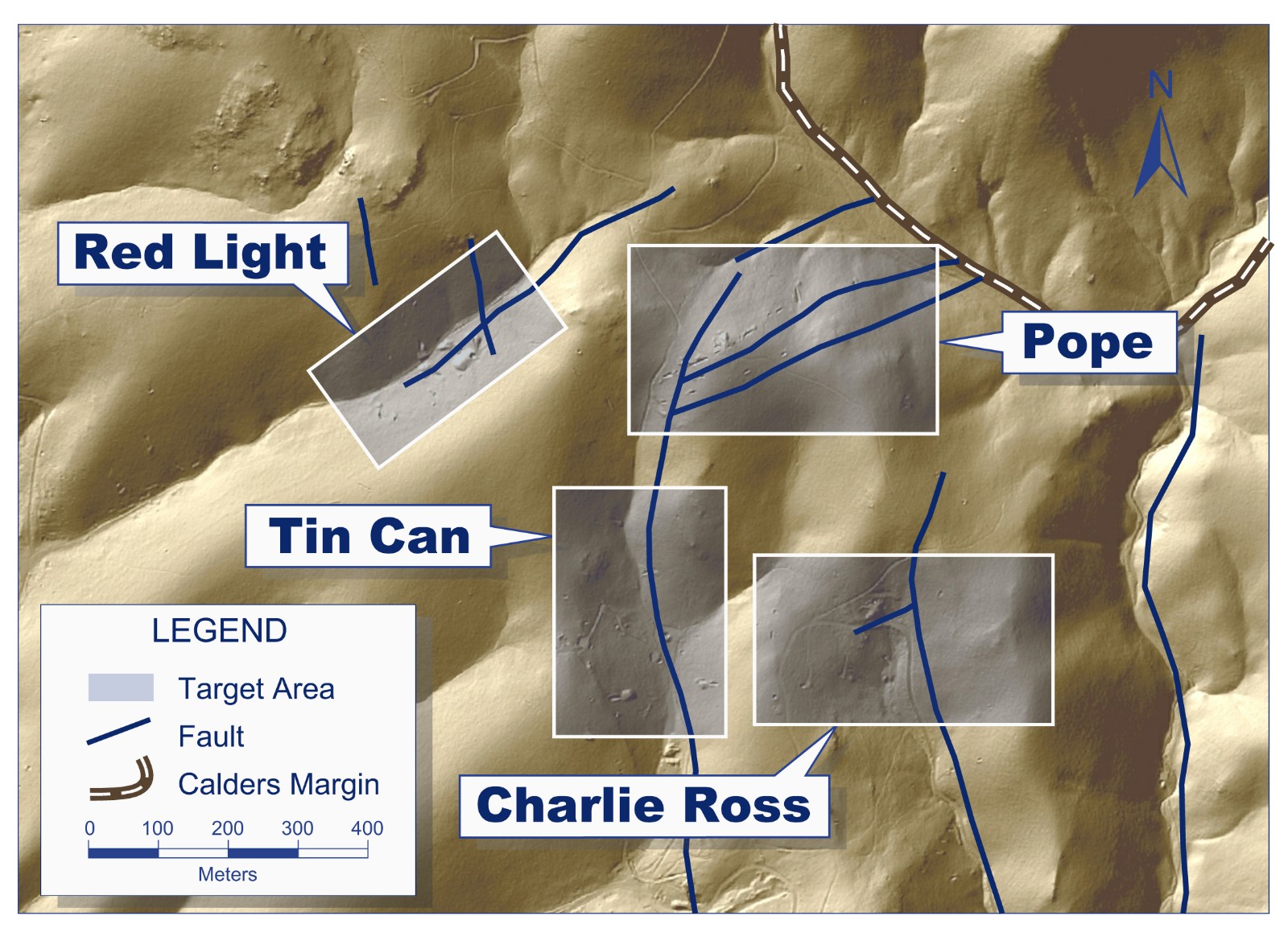 Location:
The Red Light target is located on the Nevada side of the Gold Springs project area, situated 500 metres north of the Tin Can target and 400 metres west of the historcial Pope mine (now the Pope Target).
Drilling:
None to date.
Geophysics:
Red Light is located on the northern margin of a strong ZTEM (airborned geophysics) resistivity high and on the northern extension of the CSAMT (gound-based geophysics) resistivity high from the Tin Can target (See Maps below).
Geology:
The Red Light target area is located along a northeast trending fault valley (see Map below). The contact between tuff units and the underlying andesite, where the mineralized horizon occurs, is exposed in two of the historical shafts located along this fault. Stockwork and silicified breccias are observed in the andesite in several historical trench cuts and mine dumps. Banded and bladed white quartz veins are found in outcrop within mine workings suggesting a disseminated target in the underlying andesite unit.
Structural Geology:
The dominant structure is a northeast trending feature located in the Fay canyon (see Map below). This fault extends out of the historic Horseshoe mine to the margin of the Gold Springs caldera. There are several small north-south trending structures that mirror the orientation of the geophysical resisitivity anomalies associated with the Red Light target.
Historical Mining:
Two deep shafts, one tunnel, and several pits are scattered across the Red Light target. It is typical to see vein material and strong alteration in the dump materials.
Geochemistry:
A total of 15 samples were collected from the Red Light target. One sample returned values above the resource cut-off grade and contained 33.1 g/t gold. The sample is a select sample of vein material collected from the edge of one of the shafts exposing the tuff/andesite contact signifying that this contact is a signficant pathway for mineralizing fluids. (A cutoff grade of 0.25 g/t Au was used, which is the cutoff grade of Gold Springs' existing resources).