System Type:
Classic epithermal, quartz and quartz-calcite veining, breccias and strong stockwork zones.
Strike-Length:
The Homestake target has 1 km of exposed strike-length with projections going under post-mineral cover.
Resource:
None at this time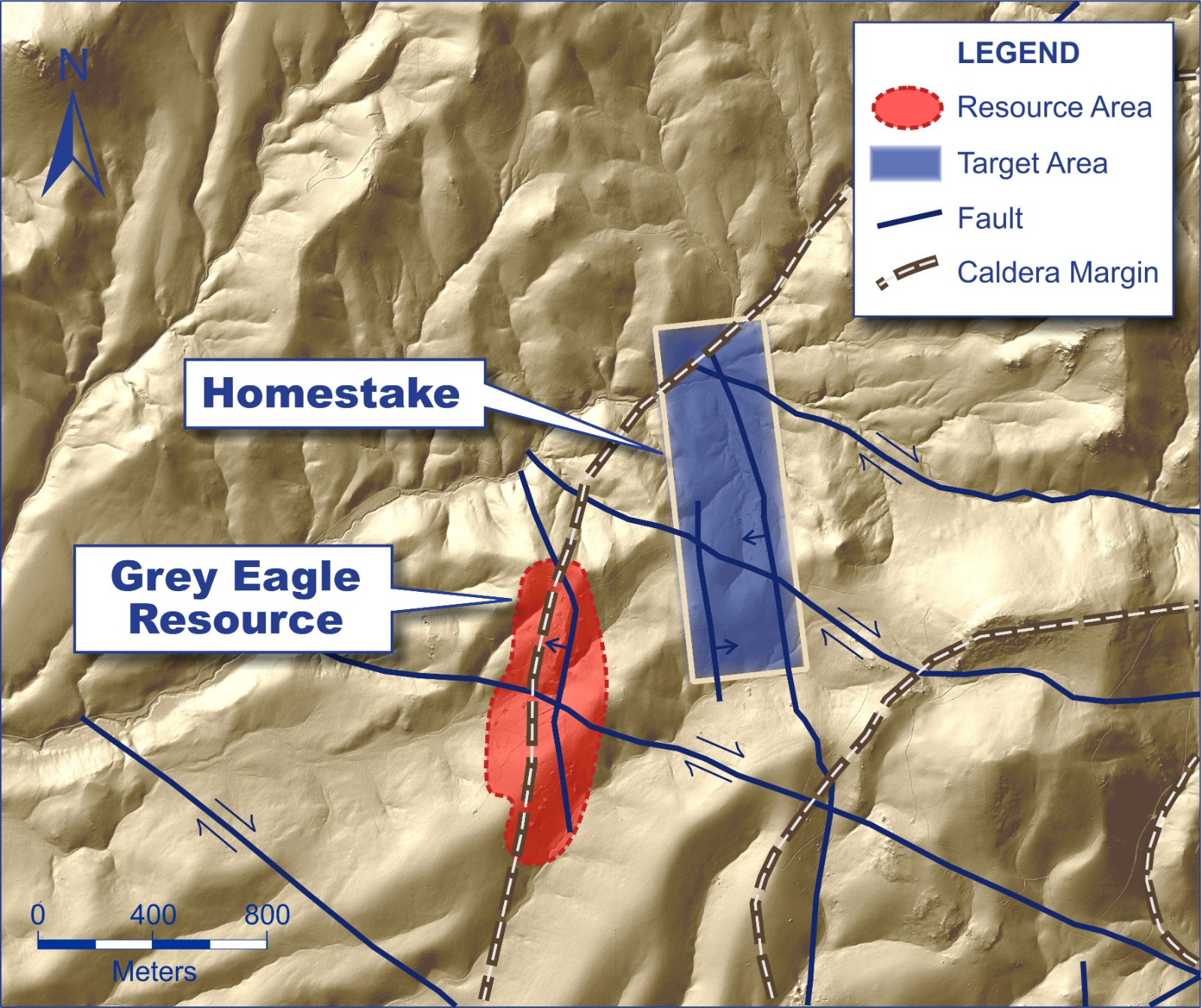 Location:
The Homestake target lies on the Nevada side of the Gold Springs project and is situated on the northern boundary of the Gold Springs property, 700 metres east of the Grey Eagle resource.
Drilling:
In 2019 a drill program of 1,856 meters in 14 holes targeted the Homestake veins covering 600 meters of strike length. Drilling interested bonanza grade mineralization near surface at the northern exposure of the vein with a 6.1-meter interval grading 21.9 g/t Au and 69.3 g/t Ag and a second larger 71.6-meter-wide zone grading 0.7 g/t Au and 1.9 g/t Ag in hole HS-19-007. Drilling has shown the two veins seen at surface at Homestake are a splay set of the main vein and converge about 20 meters below the surface. Four hundred meters to the south, the vein splays into a set of three parallel veins averaging one-meter widths at surface returning grades of 1.12-4.23 g/t Au and 2.5-8.5 g/t Ag from intercepts in hole HS-19-012. Other holes along strike returned little to no gold but contained anomalous silver. Drill results suggest gold mineralization is not as continuous as surface sampling shows, but rather distributed in high grade ore shoots within the vein system and requires tighter spaced drilling. The Company plans to conduct additional drilling at Homestake offsetting the high-grade discovery hole as well as extending the drilling along strike to the north and south. You can view all drill results of the 2019 program here.
Geophysics:
The Homestake target area shows up as a moderate north-south trending CSAMT (ground geophysical survey) resistivity high and a ZTEM (airborne geophysical survey) resistivity low. A ZTEM resistivity high is located over the northern portion of the claims (see maps below).
Geology:
The Homestake target is a part of the overall Homestake-Iris vein system and is characterized by a set of north-south trending banded quartz and quartz calcite veins with opposing dips. The Homestake veins are two parallel, stacked veins of colloform banded and bladed quartz that dip shallowly (45-55 degrees) to the west, while the Iris vein is a quartz-calcite banded vein dipping steeply (75-85 degrees) to the east. These veins represent a classic epithermal vein system with potential for bonanza grade mineralization at the intersection of the vein sets (see a representative conceptual cross section in pictures below). Vein widths vary but are generally 2-4 metres before being obscured by post mineral cover to the north and south. Veins are margined by wide zones of silicified breccias, quartz-sericite alteration, and stockwork quartz veining within the porphyritic andesite host rock. Breccia and stockwork zones together extend for a 400 meters width before being lost under post mineral cover.
Structural Geology:
The Homestake target is located between the North Grey Eagle right lateral strike-slip fault and the margin of a collapsed caldera (see map below). Two right lateral strike-slip faults pass through the Homestake target. Movement along the faults created a northwest elongation for this target. The area north of the current drilling, in the margin of the collapsed caldera coincides with a ZTEM resistivity high.
Historical Mining:
The Homestake claims which include the historical Underground Homestake Mine were originally identified in 1897 and underground mining began in 1904. One of the only three mills within the area was located at the mine site (see pictures below). Mining at the historical Homestake Mine continued sporadically until the start of World War II when operations ceased and never started up again.
The Homestake and Horseshoe historical mines were high-grade underground mines that exploited a banded quartz-calcite vein up to 7.5 meters thick. Both these mines are on the same structure.
In 2019, GRC drilled in Homestake several holes looking for bonanza grade mineralization near surface at the northern exposure of the vein with these high-grade highlights:
22.86 g/t gold equivalent over 6.1 meters and a wide zone with
0.74 g/t gold equivalent over 71.6 meters in hole HS-19-007.
4.50 g/t gold equivalent over 3.0 meters in hole HS-19-012.
Geochemistry:
The west-dipping Homestake veins are 2-4 meters wide and return continuous surface samples of 3-15 g/t Au for a strike length of 600 meters with many values of +10 g/t Au Silver values are generally +25 g/t with a high of 68 g/t. The host rocks to the veins have been hydrothermally brecciated, quartz-sericited altered, and contain stockwork quartz veining. This altered and stockwork veined wallrock extends for up to 400 meters east-west, surrounding the veins, before disappearing under post-mineral cover. Sampling of the breccia zones returns gold values up to 1.6 g/t and silver values up to 68.1 g/t and from the stockwork zones gold values of up to 2.4 g/t with silver up to 9.9 g/t were produced. The Iris vein is located 230 meters west of, and dips back toward, the Homestake veins and is thought to be part of the same system connecting at depth. Sampling of the Iris vein returned the highest-grade rock sample with up to 30 g/t Au. Trenching from 2016 along the Iris vein continually returned values of 2-17 g/t Au along the 20-meter strike length of the vein exposed in trenches. High-grade stream sediment samples occur in bounding drainages. Both the Homestake and Iris veins show up as north-south trending soil anomalies with many +0.10 g/t Au values. This high-grade zone is contained within a larger halo of lower-grade gold anomalies.